THE RED-TIDE IS NORTH OF US.
IN 20+ YEARS IT HAS NEVER HIT US AND IT IS NOT EXPECTED TO HIT US THIS TIME EITHER!
Fish the Everglades National Park/
10,000 Islands for:
SNOOK, TARPON, TROUT, REDFISH, POMPANO, PERMIT, COBIA, SNAPPER, and more
With over 10,000 islands, bays, rivers and passes, Everglades National Park/10,000 Islands is the ultimate Florida light tackle fishing adventure.
The Everglades, one of the most remote areas of Florida, is the fisherman's destination for snook, redfish, trout, tarpon and many other species. With the ability to access a number of different islands, rivers, and creeks, every waterway is available for your Everglades fishing experience.
Let us take you for a fishing adventure in exciting new waters,  so you, too can experience the wealth of over 1.3 million acres. Beginner or experience fisherman, whether you choose to embark for a day, or several, the satisfaction of Florida's sun, water and fishing will stay with you long after you depart.
COME TO THE  EVERGLADES,
discover a true wilderness region of Florida,
and take advantage of some of the finest fishing Florida has to offer.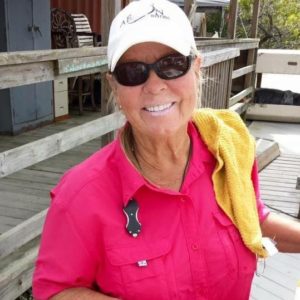 Captain Becky is a native Floridian with more than 50 years of experience fishing the Florida waters.
Based in Everglades City, Captain Becky's dock is conveniently located at the mouth of the Barron River, minutes away from some of the finest fishing Florida has to offer.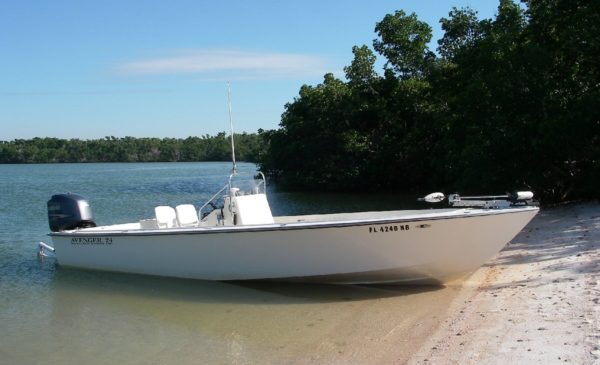 24ft. Avenger
Captain Becky's custom built 24-foot Avenger is considered to be one of the top guide boats in the area. It features a ventilated "step hull" that allows it to run very shallow across the flats while still providing a comfortable and soft ride over the open waters of the Bay and Gulf. Its spacious layout, clear deck space, and stability gives room for four anglers to fish with ease. Rigged with top of the line electronics, quality rods and reels, and necessary safety gear, this boat is ready to take you on the ultimate light tackle fishing excursion.
Equipment
Onboard electronics include, but are not limited to, Furuno GPS/plotter-bottom machine, VHF radio, and Minn Kota I-Pilot. We use Star rods and Shimano spinning reels, loaded with Power Pro line and fluorocarbon leader.
What I Provide:
All fishing gear and tackle
Live and/or artificial bait
Fishing license and park permits
Ice and cooler
Clean, bag, and ice your catch for you to take home/restaurant
We will be glad to make reservations for overnight accommodations
What You Need to Bring:
Sunglasses, hat and sunscreen
Rain poncho
Lunch and beverage
Captain Becky Campbell is a true master, teacher of her trade. She is extremely knowledgeable about the wildlife and fishing in her area. She offers tons of teaching and is a pleasure to charter with. The backcountry fishing is not easy and requires extensive knowledge of the area, tides, weather, and bait. Her equipment is top quality as is the vessel she operates. We chartered a day of fishing and were not let down at all. Within the first hour, we caught our limit of redfish all over 22". We moved many times to find a good bite in which we caught more redfish, snook, and other species. There is no normal when you do this type of fishing, so we were not expecting miracles. However, the weather, the fish, and good company all came together on the same day and made it an enjoyable experience. I would highly recommend her to any one looking to fish, sight see or learn the area.
Sherrie Franklin
2020-03-03
If you are looking for an adventure choose Becky as your guide. She not only knows where the fish are, she is also knowledgeable about local birds and plants. If your lucky she may even be able to coax the dolphins to give you a show as they surf on your wake.
My grandson and I went on a fishing trip with Captain Becky Campbell and we had the most amazing time. My grandson was so amazed at how well she could drive a boat, cast the fishing pole and that he did not have to clean the fish. He also raved about the delicious snacks that were provided on the trip as well. Capt. Becky answered any questions he had and was very patience with him. I highly recommend Capt. Becky Campbell as your fishing guide.
Peter Papacostas
2019-04-07
Three guys booked for a 3/4 day fishing trip. Beautiful April day and our hopes were high as Captain Becky was recommended by another captain who could only accomodate 2 fishermen. We were on time and left the slip promptly, only to travel about 50 yards and tie up at the dock to try for some juvenile tarpon. Trouble was, she said we could only fish two guys at a time, so I took the first watch. No hits there, so off to open waters. I didn't get to wet a line until an hour and a half after initially leaving the slip. We were there to just catch fish, but she was locked on to trout. Bottom line was 7 in the box at the end of the day for three guys. Out of 6 hours, I fished less than 3, as she traveled from site to site to site. The only reason I rate this as high as 2 stars is that we had a wonderful dolphin show following our wake on the way back to the marina. Also, her equipment was fairly new and in good working order (thank you hurricane Irma). Guys should be prepared to mentally travel back to middle school and be talked down to as the teacher scolds the petulant child. Every question, comment, or statement was retorted to the contrary. She wore us out with her slap downs. Even until the end she didn't agree with the idea of skin on the cleaned fish, how to take a picture with the only fish worth being photographed, and being lectured to regarding how one should shake hands with a lady. If given the choice between fishing with Captain Becky or not fishing at all, I would try my hand at golf. Would not reccomend. Sorry.
My daughter and I recently went on a fishing trip with Captain Becky and it was the BEST time ever. Becky sees, senses and hears the fish. We were loaded with bait and were always on fish. We caught trout, mackerel and pompano. She is so knowledgeable I told her to write a book.
The most amazing day of our five week stay in Florida. Captain Becky far exceeded our expectations ensuring the novice fisherman felt as comfortable as the well seasoned. Her boat is her business and she runs both expertly and professionally. If you think you are booking a fishing trip with Captain Becky it is far more.Her knowledge of the area waters, fish, birds and shoreline is astounding. Her no nonsense approach and constant instruction to improve fishing techniques resulted in an amazing catch....(which she cleaned, filleted and fed more than seven family members that evening)....can't wait to return. Thank you again Captain Becky!
chris whitburn
2018-03-31
This women is a cheat and i would highly advise not giving her your credit card. I booked for Easter Sunday, she text and said bait shop would be closed and would switch to Monday. I told her we had other plans but would try to make it, i texted her on Friday and 8pm and canceled; said we couldnt make it. Then she charged my card $275 and lied and said I HAD TO TELL CUSTOMERS TODAY SHE COULDN'T TAKE THEM BECAUSE SHE WAS BOOKED. Which is a lie because she knew last night or at the latest first thing this morning when she checked phone. So she lied, and i called back to say i would go by myself and she wont accept my calls. So now i cant even call to go.
Fishing with Captain Becky is a pleasure. She truly thinks like a fish and if you want to go out and have a great day of fishing while also learning to be a better fisherman, look no further than Captain Becky.
This was one of those experiences I'll treasure forever! My son and two of his friends were along and it was an incredible time on the water! Capt. Becky was well prepared, had all of the right answers and really made our time together special. One thing I would do differently is that I'd go for a full day instead of the 1/2 day I selected - we didn't want to get off the boat!!
We use and/or endorse the following